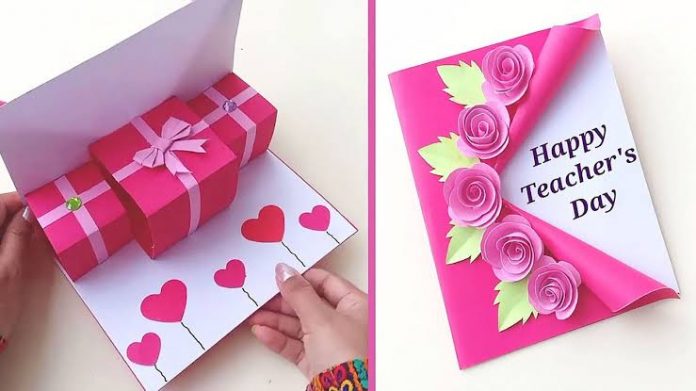 Teacher's Day is observed to pay respect to all the outstanding nation builders who work day and night to make this world a better place. India's National Teacher's Day is different from that of the rest of the world as, on this day, we pay tribute to not only our teachers but also our 2nd president, Dr Sarvapalli Radhakrishnan. Dr Radhakrishnan was a philosopher and teacher before he joined politics. Even after becoming president, he was well known for his polite behaviour, the need to educate the country and simplicity. In short, his nature as a teacher was clearly visible; hence, celebrating his birth anniversary as National Teacher's Day is an incredible way to remember him every year.
So such a special day deserves to be celebrated with lots of love, respect and efforts from your end. Surprise your dear teachers with a wonderful gift that you made yourself. Whoever you are today, your teachers have played a vital role in your success. So, take out some time from your schedule to thank your life mentors properly. You can look for Teachers Day gifts online, or you can buy stuff to make a gift for them and make something creative from our detailed list. If the latter is your choice, then keep on reading and create a unique present for your favourite teacher. 
DIY Coffee Sleeve
Coffee and tea are undoubtedly the life fuels of all working adults, moreover of those who take care of more or less 40 kids and/or teenagers. These people truly deserve to have their coffee in peace and in teh best way possible. So, this year make a cute coffee mug sleeve for your teacher with an appreciative message on top. You can write something like a fantastic teacher that will make them feel loved and supported. 
Personalized Clip Board
Clipboards are, of course, a very practical gift for a teacher, but they often come in very dull and sometimes even childish designs. So, we suggest you get a clipboard for them and add some sparkle to it yourself. You can simply cover the board with a base colour and then write your teacher's initials or full name with another colour. This is something that will not take a lot of time on your end but will indeed look amazing. 
Personalized Tassel Bookmarks
Reading and learning an essential part of teaching; hence teachers have to go through several books on a daily basis. Make their reading time extra special with a personalized bookmark. You can buy a bookmark made with resin and add their initials or a small message on top to make it look better. For the added beauty, add a small tassel at the top of the mark; trust us, it looks incredible.
Plant with Painted Pot
Plants are believed to bring a sense of calm, so an indoor plant is a great gift for your teacher. Make the plant even prettier by painting the plant yourself. You dont have to be an excellent painter to decorate a pot. Just take a lot of colours and go with your instincts; you will indeed have child-like fun again while making this gift for Teacher's Day.
Glitter Pen Holder
There are certain things that teachers always need in bulk; pens and pencils always top that list! These two things are always needed but are easily misplaced by people cause of their size. This Teacher's Day, give your teacher a gift that will help them keep all the required stuff in one place. Just grab an old glass jar, coat the insides of the jar with glue, fill it up with lots of glitters and empty it out on paper. Now, you have yourself a sparkly pen holder that is an awesome gift for your teacher. 
Read Also : The Future of Export from India – Amazon Global Selling – Sent
Printed Vase
If your teacher loves flowers, then this gift will be highly appreciated by them. Get a plain vase from the market and paint it as per your liking. Again you do not have to perfect at it, just put your honest effort into the task, and your teacher will like it. Infarct, we can ensure you that they will show it off to everyone with pride.