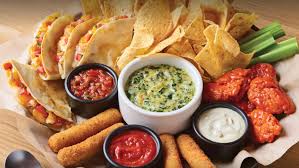 It's not an exaggeration to say that Applebee's offers a very long list of appetizers to choose from that should get your group or family's meal to a very nice start. But what should you pick? With so many options to consider, the sheer range of choices can be rather overwhelming (check out Applebee's menu prices on PriceListo). 
True, you can always fall back on the old favorites that you know will get you a great start with their fun flavors. The wings are always a popular option, whether you opt for the scrumptious boneless buffalo wings or you go for the double crunch bone-in wings. Get the boneless with the Asian chile sauce, while you match the bone-in with the traditional buffalo sauce, and it's great. 
You can also try the chicken wanton tacos, the chicken quesadilla, and the pretzels & beer cheese dip. All of these are proven favorites. 
But if you're in the mood to broaden your foodie horizon, then you might also enjoy the following appetizers: 
Spinach & Artichoke Dip
Both spinach and artichoke are all good for your health, right? But we don't go to Applebee's for the nutrition, as fast-food and fast-casual restaurants aren't exactly temples to healthy diet plans. Instead, we come here for the taste, and that's what we get with the spinach and artichoke dip. 
If you've already tried this dip before, then you already know what we're talking about. If you're like most people, then one taste of this and it becomes one of your favorite Applebee's menu items right away. It's so good that it's one of the best dips that you can get from any restaurant. 
The spinach and artichoke pairing here is just about perfect when it comes to a delightfully creamy flavor. The layer of parmesan cheese on top is the perfect complement that really sets off that taste. It also doesn't hurt that the tortilla chips that come with this dip are also freshly made, and with that nice crunch to each bite. 
All in all, it doesn't matter if you come to Applebee's during the day or night. It's always a good time for the spinach and artichoke dip. 
Neighborhood Nachos Beef
As the name indicates, it's meant for a group of diners. But it's so good that you want to have it all for yourself, and you won't be the only one at your table thinking that very same thought. It's also quite a filling order that in some cases, this might work as your entrée as well. 
This starts off with the freshly-made tortilla chips, which they top off with some taco-seasoned ground beef, melted cheddar cheeses, and queso blanco. The toppings also include fresh jalapeños, house-made pico de gallo, guacamole, sour cream, and chopped cilantro. 
This is one classic plate of nachos that you really ought to try. Get a taste of this, and it will be one of your favorites. Better yet, try these nachos with a margarita, for a truly great time. 
Crunchy Onion Rings
Sure, onion rings aren't exactly unique. Plenty of other fast-food joints offer them, and some of those other places can sure make a terrific order of onion rings. If you've ever tried the onion rings at Sonic Drive-In, Whataburger, Culver's, and Dairy Queen Grill & Chill, you can sure get yourself a terrific order of onion rings. 
But you should count the onion rings at Applebee's as a serious contender. They're consistently tasty and crunchy, and they're fantastic with the honey BBQ sauce. The frying process at Applebee's is great, since you always get that nice crunch on the outside, but the it's still soft and sweet on the inside with the onion. It's so good that even if you run out of the hone BBQ sauce, these onion rings are great as they are. 
Mozzarella Sticks
Some people say that you shouldn't go with the mozzarella sticks at Applebee's because there are more interesting options available. Besides, you can always get some mozzarella sticks at other places, and they're often good there as well. 
But sometimes you just got to get some mozzarella sticks, and here at Applebee's they sure know how to make them. They're perfectly fried to a nice crunchy golden brown on the outside. And when you get to the inside, you have that soft melted mozzarella cheese that really gets you going. 
The warm marinara sauce that traditionally comes with these sticks are great for dipping. But if you want a bit of a change, try these mozzarella sticks with the house-made ranch dressing as well.  
Read Also : Best English Website For Teachers
White Queso Dip and Chips
This is another dip that's supposed to be for the whole group, but good enough that you want to hoard it all for yourself. The queso here has just the right cheese flavor going, and with just the right spiciness level that isn't too overwhelming. The freshly-made tortilla chips are warm and crunch, and they work great pairing with the dip. 
Try this with a margarita, and your evening is off to a good start!