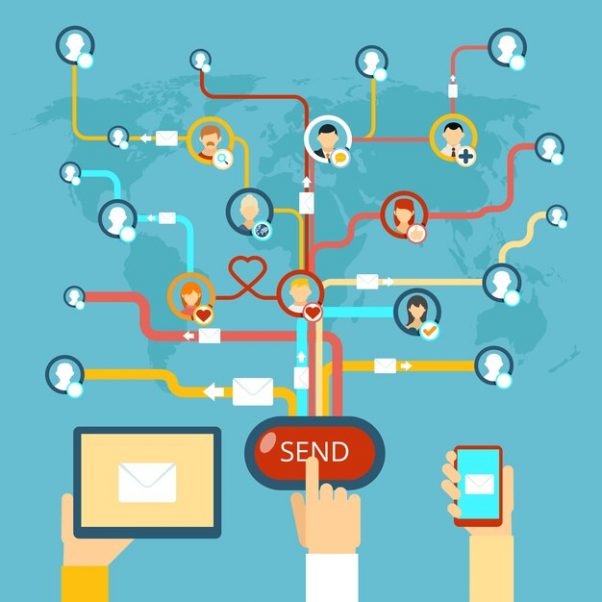 One of the most powerful digital marketing strategies is still email marketing, for it helps businesses around the world to develop their brand, reach the target audience, drive sales, and build customer relationships. With email marketing, you can effectively keep in touch with your network, engage and nurture business leads, and earn high returns on investment (ROI).
Studies conducted recently revealed that over 90 percent of B2B marketers use email for content distribution, while 72 percent of customers prefer receiving business communication through email. Email marketing services help you promote your business through an easy email marketing process. The state-of-the-art email marketing platform helps you create and send emails, track the email campaign results, and identify and nurture qualified deals to drive sales. 
Get to know what is an email marketing service
An email marketing service helps a small business or a startup to make their email marketing efforts effective through automation, general email communication, monitoring, subscription, campaigns, notifications, and integration with other marketing tools.
Why your business needs email marketing services today?
Email marketing service is used by most businesses today to keep their audience engaged through regular communication. It helps promote your business by targeting the right audience. Businesses use it to build strong relationships through lead generation, lead nurturing, sales, and customer retention.
The email marketing platform offers the latest features like robust ESPs, email template transfers, automation setup, and split testing to engage the target audience and move them to final conversion.
How to choose the best email marketing service provider?
With email marketing, you can reach your target customers in the most cost-effective manner. Nevertheless, there are numerous email marketing service providers, and choosing a reliable one is not easy. A service provider you choose should help you fulfill your needs, meet your marketing goals, and fit your budget. Here are some key features you should consider to find the best email marketing software.
Read Also: 3 Types of Home Remodel That Will Keep You Happy for Years to Come
1. Wide range of email templates
To create highly effective emails, you need a wide selection of templates on various themes. You can choose a suitable template and edit it using a drag-and-drop feature to create impactful email campaigns. With a rich collection of readymade templates, you can plan regular email campaigns by modifying the templates based on your requirement. It helps you save your time, effort, and money.
2. Segmentation of contacts
An email marketing tool should help you segment your contacts into different groups and manage them effectively. By identifying your email subscribers, you can create and send emails specifically targeting the customers' purchase behaviour, subscribers' location, and browser users. 
Contact segmentation is one of the most essential features of an email marketing service, for it helps send exact information to the right group of people. This will increase the reader engagement and drive sales. 
3. Reporting
The results of your email campaigns are important to planning your further actions. The tool helps you with real-time analysis and reports. You will get to know the emails that offered higher engagement and conversions, as well as those that created less impact on the customers.
The intuitive dashboard should offer easy access to the analytics to learn:
Whether the subscribers used personal computers or smart devices to read your email campaigns

The time subscribers spent reading the content and were engaged on the page

Did they click anything on the content of the email?

Whether they deleted your email or forwarded it
You can also know the deliverability rates on the report.
4. Social media integration
Effective email marketing campaigns will ask for social media integration to reach targeted customers.
In short, you can check for the above features before subscribing to an email marketing service plan to ensure that the tool you choose gives the desired result.