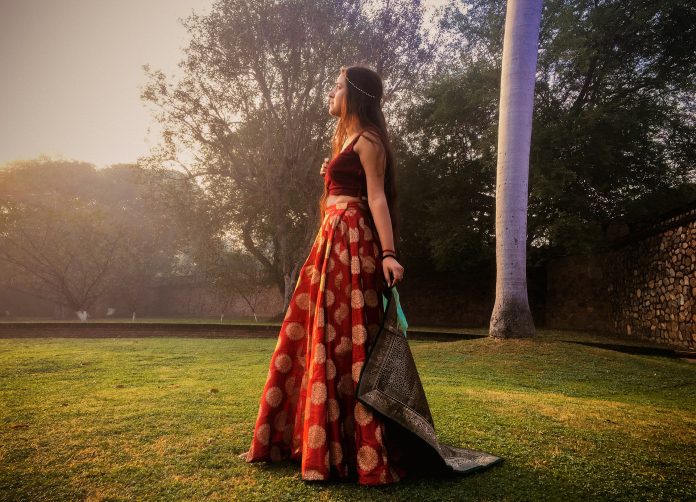 When it comes to wearing something that looks classy and nice, a saree is the best option to try out. It makes you cool and graceful, but it also adds a touch of glamor to your attire. A black saree is a must-have in your collection, and it can be worn in a number of styles. You can shop for a sensual-looking black net saree or can also opt for one that is in simple cotton fabric. Young girls love to adorn a saree with an eye-catchy blouse that can help you with the best looks that will make heads turn with your presence. Let's have a look at some quick trends in different fabrics to help you shop for a good black saree:
Why not grab a black silk saree
Silk is a natural material that is frequently used in textiles. This pricey fabric is one of the most popular materials for event and festive clothing because of its glittering, silky, and soft feel. Silk is the strongest natural fabric, yet it loses strength when wet and exposed to direct sunlight. To produce more cheap and durable fabrics, many producers now favor synthetic fibers or mixes over pure silk. Silk sarees are made in India using a variety of techniques that are unique to the country. They are well-known for their unique features. Here's a glance at the many sorts of silk sarees on the market.
Explore your looks with a Kantha saree
A West Bengal saree called for the embroidery method employed. Kantha is a style of running stitch embroidery that is used to cover the entire fabric with beautiful patterns of flowers, animals, birds, mathematical shapes, or themes from everyday activities on sarees ranging from raw silk to cotton. The stitching on the fabric gives it a wrinkled and wavy appearance.
Make a bold statement with a net saree
The weave structure is looped at their intersections in Net fabric, resulting in a fabric with huge open gaps between the strands. The Net Saree has a fullness and lightness in weight because of its weave. The delicate Net Saree is commonly an option for evening wear, along with exquisite embroidery and appliques.
Look elegant in a crepe saree
Crepe is a gauzy, crimpy-surfaced fabric with a gauzy feel. Crepe fabric is woven from natural or man-made fibres, with silk being the most preferred choice. The textures on the surface range from thin, flat crepes to pebbled and mossy appearances. Crepe sarees are printed and dyed using a variety of techniques.
Flaunt the gorgeous avatar in a black cotton saree
Cotton adopts a wide range of dyes, allowing for a wide range of printing and dyeing processes. Because of the tenacity and adaptability of cotton yarn, a variety of weaving choices are conceivable, resulting in wonderfully textured sarees all throughout India. Almost every state in India has its own unique cotton saree styles, which are often worn in conjunction with or as an alternative to silk. A few well-known cotton saree variations are listed below.
Do not forget to have a look at banarasi sarees
A Banarasi saree is the epitome of femininity, bringing out the finest in the ladies who wear it. The Banarasi Saree is a representation of Indian values, heritage, and ethos and is an essential element of every woman's wardrobe. The appeal of Banarasi is partly due to its singularity in terms of design, colour scheme, and pattern.
The appeal of Banarasi silk sarees stems mostly from their singularity in terms of design, colour scheme, and pattern. Banarasi sarees are rich classics that never go out of style. You can wear them on your wedding day or put them in your wedding trousseau. While banarasi lehengas are the wedding trends of today, the love for banarasi sarees has grown.
Let people talk about you with a Zari saree.
Zari is a complex art form that involves weaving gold and silver threads. The designs adorned with zari are so valuable and gorgeous that they give the entire clothing a royal and costly appearance, not just the price of the thread. Zari needlework was traditionally used to decorate royal garments.
Zari is now used to embellish traditional clothing. To give shine and sparkle to our wardrobes, it is commonly utilized in traditional apparel such as Kurtis, salwars, sarees, lehengas, dupattas, wall hangings, and so on.
Rule the world with a zardosi saree
High-end designers love sequins because they create a 3D impression on the cloth. Sequins function to enhance the attractiveness of the fabric as well as offer a bright and garish aspect to the outfit. In garments such as lehengas or tunics, sequins ribbons are put at the border to produce an appealing and glamorous effect to the garment.
A specific section in peacock and flower pattern may also be emphasized for an eye-catching appeal. Lace sequin fabric is frequently used in Indian design to create stunning sarees for special events. If you want to seem glittery and glamorous, sequin sarees are a good choice for festivals or celebrations. Areas.
Make heads turn with a Resham saree.
Although the designs are extremely similar to those used in zardosi art, Resham is the Hindi word for silk. While some people like heavy metallic gold and silver work on their outfits, others prefer Resham embroideries that are bright and discreet. Resham embroidery on sarees is more vibrant and may be worn for a variety of occasions. You may accessorize it with jewelry or opt for a more casual look by pairing it with a plain shirt and a funny bindi!
Conclusion
Still confused? Snapdeal has some of the best sarees to look for. The wide collection offers the shoppers to grab some elegant pieces at an affordable price and enjoy looking their best wherever and whenever it is required. All you need to do is to choose the one that suits your personality, and you are all set for making a statement with your presence.