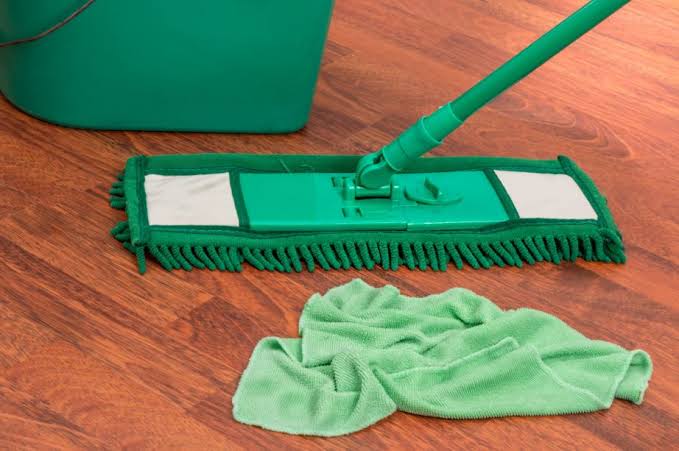 Cleaning the floor is an essential part of cleaning your home. We make sure to clean our home to keep it dirt and dust-free. Just like we clean surfaces such as tables, countertops, furniture, etc., we should keep our floors clean, too. It not only gives a spick and span look to our home but also makes a great impression on guests visiting us. However, the significance of clean floors goes beyond aesthetics.
When the floor is not cleaned, grime, dust, and germs accumulate on the floor. It is crucial to clean your floors regularly using the right products, which will not only make your floor sparkle but also keep it clean and hygienic. You should also disinfect the floor to keep it free from germs and bacteria, especially if you have small kids who like to crawl or play on the floor. 
Here are some dos and don'ts of floor cleaning:
Things That You Should Do
Using too much water will dilute the floor cleaner, which will impact its effectiveness. Being more mindful of the quantity of water you use while cleaning will be a small but valuable contribution to water conservation efforts.
There are different types of mops available in the market. The quality of the mop you use for cleaning the house impacts the cleaning results. To make cleaning easier and efficient, always use a good quality mop based on your cleaning needs. You will find mops available in multiple sizes for your convenience.
It is not only essential to clean the floor with a mop, but you should also keep the mop clean. Before you put the mop away, always sanitise and disinfect it. Not maintaining the mop will make it less effective in the long run. It is also likely to develop an unpleasant odour if it remains wet for longer hours. If possible, place the mop under the sun or in an open area where it can dry easily before your next usage. 
Plant-based floor cleaner
When cleaning the floor, one of the prerequisites is choosing the right floor cleaner. While the market is flooded with different types of cleaners, they are all chemical based, which can have harmful effects on the floor, environment, and your body. Switch to plant-based floor cleaner as it is eco-friendly and made from natural ingredients. They are free from toxins and chemicals and gentle for flooring and on your skin. These cleaners are tough on stains and dirt without releasing toxic fumes or skin irritants. They have a neutral pH level which makes them suitable for sensitive skin, too. 
Read Also : Top Medical Transcription Trends to Watch Out
Things That You Should Not Do
Apart from keeping the above-mentioned tips in mind, it would help if you also took care of things not to be done during floor cleaning.
Avoid using water on wooden surfaces
Using water on wood is going to be a failure. It will badly affect the wooden flooring and impact its appearance. You should only use a pH-neutral cleaning agent on wooden flooring and clean with a microfiber cloth.
Disposing of the mop water down the drain
The water left after cleaning the floor contains dirt, bacteria, and germs. It should never be disposed of in areas people visit frequently, and it is better to dispose of the water down the drain to prevent the spreading of germs around. 
Don't keep fans or ACs off
Once you are done cleaning the floor, you should switch on the fans or air-conditioning so that the floor can dry quickly. You can also keep the windows open for ventilation. This helps in avoiding any untoward accidents. 
The above-mentioned dos and don'ts can help achieve a clean and hygienic floor. Apart from these tips, you should choose cleaning products that don't damage the surface. There are different types of flooring, and the cleaning products should be chosen accordingly. Plant-based cleaners can be a great option for the floors as they are gentle yet effective in cleaning and disinfecting them.