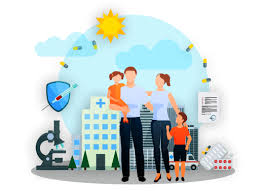 It is indisputable that until the COVID-19 pandemic hit the world, nobody gave health insurance the attention it deserves. Few people purchased or invested in health insurance as a service or commodity. However, in the wake of the epidemic and after witnessing the effects of coronavirus, people are now seeking to prioritise their health and assess the benefits of purchasing health insurance, which protects you against the problems associated with a pandemic.
What is a Covid Insurance?
Millions of people have been affected by the COVID-19 pandemic, which has shattered families and left children orphaned. The Corona Kavach Health Insurance Policy was introduced as everyone felt that there was a need for specific health insurance coverage for the illness given the immense destruction brought on by the  Corona Kavach policy pandemic.
Corona Kavach's mission is to give people financial security against the different costs that result from a COVID-19 diagnosis. The cost of hospitalisation due to COVID-19 as well as the subsequent post-hospitalisation costs are covered by our covid insurance coverage. Therefore, by choosing this Covid policy, you can concentrate on getting better from the infection while not having to worry about paying for healthcare.
Who Needs Corona Kavach Insurance?
Since the corona virus does not take into account your age or state of health, everyone is susceptible to viral infection, including pregnant women, newborns, 55-year-olds with asthma, and 25-year-olds in good health.
However, the degree to which COVID-19 affects each of us varies, based on a range of variables, such as our immunity levels, any underlying illnesses or lack thereof, as well as our general state of health. It weakens the body and worsens any sickness already present, that much is evident. In order to have appropriate financial protection in the sad event that you get the virus, it is crucial to buy a COVID-19 insurance plan. For this reason, you shouldn't hesitate to buy a Covid Kavach Policy.
Features of Corona Kavach Plan
Corona Kavach Insurance has a number of significant characteristics and advantages, including:
The

Corona Kavach

COVID-19 insurance covers hospitalisation expenses such comorbidities, room maintenance, nursing and ICU expenditures, surgeon and doctor consultation fees, etc.

The insured person is required to pay the entire premium amount up front when acquiring the Corona Kavach family floater.

Expenses are paid and handled for a specific period of time before and after hospitalisation.

For up to 14 days, certain insurance companies will cover a person's coronavirus treatment expenses.
Need for Corona Kavach Policy
You need a Corona Kavach for a number of reasons, some of which are listed below:
Feasibility
It offers sufficient insurance for fair prices. As a consequence, you can get complete health insurance for a low cost. Despite having a modest premium, the Corona Kavach Policy covers everything when you receive COVID treatment.
Safeguards your Savings
If you are diagnosed with COVID-19, the expense of the treatment you will need to recover from the illness could significantly drain your painstakingly amassed savings. This could have a big impact on your family's financial plans and future. In order to prevent it from happening, you must immediately get a Corona Kavach Policy.
Read Also : Unique Workout Ideas to Try in 2023
Insurance Protection for COVID-19 Treatment
The Niva Bupa Corona Kavach policy will cover the cost of your medical care after a COVID-19 diagnosis, including any required hospitalisation as well as post-hospitalisation expenses. Due to the high cost of ICU beds and the rising demand for them in the wake of the epidemic, you must have adequate financial protection to be able to pay for the associated medical expenses. As an outcome, you must buy Corona Kavach Policy online as soon as possible.
The Corona Kavach health insurance programme from Niva Bupa is open to anyone between the ages of 18 and 65 who wants to enrol themselves or a member of their immediate family. We must be prepared to go outside and resume our regular, healthy lifestyles. You should not be worried if you have purchased the Corona Kavach plan.