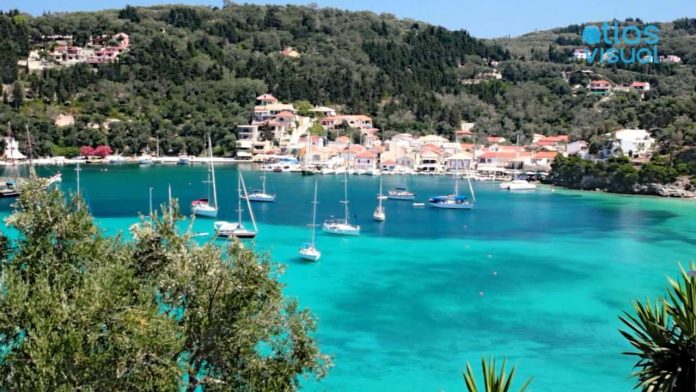 Lakka is the second-largest villa on the Greek island of Paxos, which in turn is located about 8 miles south of Corfu. This place is blessed by its location by a deep natural bay, which protects it from the wind and waves. This makes Lakka a popular destination with yacht captains and their crews.
Lakka's waterfront is where the local fishermen and the international visitors park their boats. The promenade is lined with tavernas and their terraces, while in the alleys behind the port you will find galleries, souvenir shops, and more tavernas.
Part of Lakka is built on a hill covered with cypresses and olive trees. That means some of the houses have spectacular views of the bay, with Corfu on the horizon. Lakka is one of Paxos' top destinations. In this blog post, we will explore which are the top sights in Lakka.
Beaches in Lakka
Kanoni Beach and Harami Beach are both worth a visit. Kanoni is the smaller beach of the two; it is just a tiny cove with a white, pebbly beach. It can be reached by footpath and is only 50 metres from the last bars and tavernas of the town.
The next beach up is Harami, which by some is called Lakka Beach. It has big white pebbles and a splendid view of the bay, with a slice of Lakka to the right. The only taverna at this beach has sun loungers. The absence of waves due to its sheltered location makes Harami Beach a popular choice for families.
If you want to go a little more off the beaten track and possibly have a beach all to yourself, follow the dry riverbed that runs roughly from Kanoni Beach across to the other side. Meattie Buir's Beach is a rocky business, but it's beautiful and it's also one of the best spots to see the sunset from.
Bars and Restaurants
One of the greatest pleasures in Lakka is sitting by the harbour with a drink of your choice, or dining out, just metres from the fishing boats and yachts. The twinkling waters of the bay make for a magical backdrop.
One of those restaurants by the water is To Paxoimadi. This place is frequented by locals and visitors. The orange braised pork shank, the fried cod in garlic sauce, and the beetroot salad receive rave reviews.
Romantica Cafe Bar is also located in the harbour. Enjoy the hustle and bustle of the captains and fishermen while you have a cocktail or beer. Although this bar is not famous for its kitchen, this is a popular place for a sundowner.
In one of the narrow streets behind the harbour is Stasinos Garden Restaurant. Choose between a table in the garden and a table in the pedestrian alley. While you may not have bay views, the delicious home-cooked dishes of this restaurant make up for it.
"Read More: The Reason Why Everyone Love Traveling."
Shops and Galleries
After your cocktail or dinner, walking around in Lakka is a wonderful experience. The narrow alleys host a number of cute souvenir shops and galleries. The handmade jewellery shop of George Apergis is one of the top attractions. Here, you can have your ring size adjusted, buy a classy watch, and even shop for art.
Taste and Flavor of Olive is another popular shop. Here, you can by an original souvenir made from olives, such as extra virgin olive oil and soap bars. The shop also sells locally produced marmalades and honey, and other tourist trinkets such as mugs and fridge magnets.
Hiking
The hills in the surroundings of Lakka are perfect for hiking. Since this is a small island, you can easily hike from one town to the next, for example from Lakka to Loggos or even to Gaios, the island's capital. Closer to Lakka is the Akra Lakka peninsula, the green broccoli-shaped hill that shelters the bay. Towards the north of this peninsula are the ruins of an old church: Agio Thoma, from which you'll have fantastic views of the milky blue bay and the town.
Where to Stay in Lakka
As you can see, there are lots to see and do in Lakka. Do you think this would be a good place for you to spend your holidays? In and around Lakka, there are many private accommodations to choose from: apartments, cottages, and holiday homes. There is just one hotel in town.
However, if you cast your net a little wider, you can find a greater variety of holiday accommodations. For example, just four kilometres away is Glyfada Beach Villas & Restaurant. Here, you can rent a quaint stone house or a comfortable villa right by a beautiful beach with its own taverna. The addition of two swimming pools and a tennis court really makes this a holiday destination in itself. Enjoy your stay on beautiful Paxos!