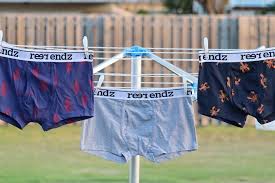 Undergarments are some of the most critical wearables for both men and women. Not only do they protect your clothes from unwanted problems like sweat, but they also ensure unmatched comfort to keep you on your toes. However, the lack of information has resulted in the rise of sub-standard undergarments. 
The prevalence is notably more in the case of men's underwear. Although the market is vast, with choices ranging from men's sexy underwear to garments that promote unparalleled comfort, it can be nerve-racking to choose underwear oozing quality. 
How do you decide on the perfect undergarments? Let's find out.
Keep These in Mind Before going Underwear Shopping
So, you're all poised to buy your next pair of underwear. However, there is an issue. Some of your past purchases have been uncomfortable, either being loose around the waist or leaving you sweating precariously around your genitals.
To ensure these issues do not occur again, consider the following factors before buying your next underwear:
Size
Naturally, you need to ensure maximum comfort if the aim is to don the underwear throughout the day. It might seem like the first thing to consider, but it is a common mistake to buy too tight or loose fabrics and regret them later.
If your underwear is constantly riding up, bunching and restricting your legs in any way, it is evident that you need to re-check your size.
Material
After size, being aware of the material is an essential factor. It would be best if you made sure that your genitals aren't troubled by the fabric of the underwear. Additionally, avoid purchasing fabrics that will induce sweating, leading to further discomfort.
Style
Style is a crucial factor that can help you feel confident and feel sexy in your own right. In fact, men's sexy underwear has driven the market's sales, allowing it to reach annual revenue of $81250 million in 2020. The figure is expected to grow and reach $139290 million by the end of 2027.
The market is spoilt for choices with different cuts and prints & patterns, which can appeal to you and induce a sense of style in your choice of undergarments.
Read Also : Period Underwear Buying Guide: All You Need to Know
Comfort: A Non-Negotiable for Choosing Underwear
In an era where visual appearance takes precedence, comfort is often given a backseat. Whether talking about skinny-fit jeans or body-fit tops, the fashion market will not run out of options anytime soon.
However, your underwear must prioritize comfort. To illustrate, comfortable underwear boasts the following advantages:
Helps your skin to breathe, preventing issues like sweatiness or overheating

Prevents the likelihood of infection 

Provides a clean fit, curbing the need to adjust it constantly

Secure grip, allowing you to engage in day-to-day activities without worrying about injuries
Moreover, they help avoid discomfort and keep you on your toes to do everyday tasks like playing football or giving a presentation with your best foot forward!
Since underwear is a concealed fabric, you can opt for many styles and prints, provided they do not compromise on comfort. The genital area is sensitive, and any build-up of yeast and other microbes near the area can lead to long-term complications that may require extensive surgery.
Save yourself from the risk and invest in comfortable underwears now!