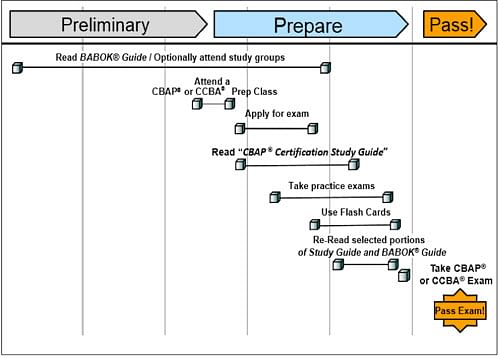 Business analysts are in high demand across all industries, so it is important to have a certification. The Certification of Business Analysis Professional (CBAP) certification is the world's first MBA-related certificate and ranks among the top-ranked certifications in the software industry.
CBAP is designed for business analysts who would like to increase their proficiency level. The program consists of three exams, each one corresponding to the knowledge area covered by that exam. A candidate's score on each exam will be calibrated against a set cut score.
The exam is an assessment tool that can be used by a company to ensure that they are hiring qualified personnel and may also serve as an objective measure of individual capabilities at different levels. In today's complex business environment, an analyst's adaptability, readiness, and ability to solve problems through development can help a company thrive. This is important for a company's success and can be obtained through a CCBA certification in addition to experience and knowledge.
Preparing for any examination requires a strategy and a disciplinary approach to fare well. We have listed a few robust tips for you to follow if you enroll in the CCBA certification course. 
Understanding CCBA
CCBA is a level two certificate that recognizes business analysts with at least 2-3 years of experience in business analysis who desire to further their expertise. There are a few things you should be aware of and consider.
Some essential points to consider before appearing for the test
Firstly, you must have a minimum of 3750 hours of work experience as a business analyst in the last seven years, aligned with BABOK (Business Analysis Body of Knowledge) 

Secondly, you must complete 21 hours of professional deployment in the past four years with a minimum of two references from your manager or client.

Finally, you must have completed at least 900 hours in 2 of the 6 knowledge areas OR 500 hours in 4 of the 6 knowledge areas.

As a result, there are no prerequisites for enrolling in the certification program. However, you must meet the eligibility requirements mentioned above to take the test. 

The next step is to fill out an application for the online certification exam, pay the fees, and wait for approval. 

The exam costs $325, while the application costs $125.

If your application has been granted, you have one year to take the exam.

This exam will take place at a Prometric testing center. 

The CCBA exam consists of 130 multiple-choice questions and lasts three hours. This exam is based on the BABOK Guide's third edition. In addition, the CCBA test includes scenario-based questions.
Every certification test has a distinct preparation strategy. So, if you want to pass the CCBA certification exam on your first attempt, you must prepare adequately. 
It's time to begin your CCBA certification preparation after submitting your exam application. So, all you have to do now is follow our CCBA certification study guide and be ready to pass the exam!
Read Also: Cezanne did not Exhibit his Works Publicly for 20 Years
5 tips to passing the CCBA exams:
Understand the exam format
Begin by familiarizing yourself with the exam's format. Then, as you prepare, carefully consider the weightage of each domain so that you can divide your time and prioritize each section. Refer to the following table to understand the format and exam blueprint:
| | |
| --- | --- |
| Categories | Percentage |
| Business Analysis Planning and monitoring | 12% |
| Strategy Analysis | 12% |
| Requirements Life Cycle Management | 18% |
| Elicitation and Collaboration | 20% |
| Requirement analysis & Design Definition | 32% |
| Solution Evaluation | 6% |
Follow this official format recommended by the IIBA to build your confidence and appear for the exam. 
Understand the concepts clearly
The concepts for each knowledge area must be clear. We recommend that CCBA candidates study the complete guide of BABOK before doing any other preparation. It's a handbook widely used and acknowledged in the BA profession. Thorough knowledge of the guide will help you pass the examination. 
You must plan your time to master all of the BABOK guide's knowledge categories. If you have any doubts, read the BABOK guide twice to ensure you understand the ideas. The BABOK is considered the Bible for the CCBA test, so memorize as much as you can. 
Practice will make you perfect
Giving mock simulation tests is an excellent way to put your BABOK knowledge to the test. The practice exams will familiarise you with the actual exam structure, allowing you to take and pass the CCBA certification exam. As a result, these tests will help you see where you stand, what you're missing, and how much more effort you'll need to put in to prepare for the final exam.
Most importantly, it will boost your confidence. 
To pass the exam, everyone takes a different approach and employs a different strategy. You can choose a format that is more comfortable for you and fits your daily routine, ranging from flashcards to study groups or individual studies. If self-study is not your thing, you may enroll in CCBA certification training (classroom or online instructor-led training). You can become more disciplined in your studies by using an online training classroom. It also provides you with improved knowledge of Knowledge Areas from the BA mentor. Some of the advantages of the classroom arrangement include query resolution, an interactive environment where you can learn from fellow students about the BA practices they use in their businesses, and so on.
Extra tips
As a CCBA candidate, you can join business analysis discussion forums and study groups to obtain qualified and certified specialists to answer your questions. The above habits will help you prepare for the big day, but don't overwork yourself. 
Individuals who successfully complete the programme are able to:
identify and produce valid business requirements

develop documentation sufficient to meet needs for processing, testing, and implementation (such as specifications)

analyse requirements with other stakeholders in order to understand implications and appropriate solutions

make recommendations based on findings
In conclusion
We've put together this guide to help you get started on your CCBA certification preparation and pass the exam. Time is the most important factor you can devote while studying for the CCBA certification exam. It is an important exam that will give you recognition and a formal acknowledgment from IIBA that can help you advance your career.