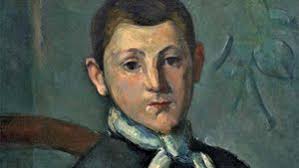 The post-Impressionist artist Paul Cezanne (1839-1906) is best known for his varied painting style. His work was not always understood, but he greatly influenced 20th-century abstract art. Many art historians and scholars agree that painter Cezanne's artworks formed the bridge between late 19th century Impressionism and the new artistic movement, Cubism, in the early 20th century, making him a leading post-Impressionist artist. 
His unique design, composition, tone, and color development throughout his life are highly characteristic and recognizable worldwide. Famous artists like Henri Matisse and Pablo Picasso were also greatly influenced by Cézanne.
What is perhaps not so well-known is that the Paris Salon had repeatedly rejected his works. After this, his works couldn't fit in with the Impressionists; Cezanne did not exhibit his works publicly for 20 years.  
Why Cezanne Didn't Exhibit his Works Publicly for 20 Years
Before we discuss the painter Cezanne's life and artworks, let's look at why he didn't exhibit his works for 20 years. 
Between 1748 and 1890, the Paris Salon was the most significant annual art event in the West. In fact, it's the official art exhibition of the Académie des Beaux-Arts in Paris, and it was a great honor to have works accepted by this institution. Cezanne submitted some of his works every year from 1864 to 1882. However, his works were every time sent to the Salon des Refuses, which was where the "rejects" were sent to. 
Because the Paris Salon repeatedly rejected him, Cezanne started to exhibit his works with the Impressionists. However, as his style was already controversial, he didn't fit in with them. Impressionism rejected the realism of the Renaissance, preferring to capture the impression of light and color through a subjective interpretation, while Cezanne's works reflect his personal expression.
After Cezanne had exhibited with this group of Impressionists for the third time, he was devastated by the negative comments on his works. As a result, he would for twenty years not display his works publicly. 
Read Also : The Story Ads On IGTV: Best Practices That Marketers Need To Know
Early Life of the Famous Painter Cezanne
Now, let's look at the famous painter Cézanne's life and works. He was born in 1839 in Aix, France. His father was the co-founder of a banking firm that prospered throughout the artist's life. This gave him financial security and eventually resulted in a large inheritance. Cézanne studied painting and drawing at the École des Beaux-Arts in Aix in 1856. His father persuaded him to enter law school, but although Cezanne continued his law studies for several years, he was simultaneously still enrolled at the École des Beaux-Arts. He remained at the art school until 1861.
In 1861, he went to Paris and studied at the Académie Suisse. But he felt he couldn't get enough inspiration to paint. So he returned to Aix and entered his father's banking house, although he continued to study at the School of Design. However, working in his father's business was unsuccessful. So he returned to Paris in 1862, where he stayed for the next year and a half. 
There he met Claude Monet and Camille Pissarro and became acquainted with the revolutionary work of artists like Édouard Manet. But Cézanne was never comfortable with Parisian life and periodically returned to Aix. In Aix, he could work in relative isolation. 
Works of the 1860s to 1870s
Paul Cezanne's drawings and paintings from the 1860s are peculiar. The subject matter is melancholy and includes fantasies, dreams, religious images, and a preoccupation with the macabre. However, a fascinating aspect of his style in the 1860s is the energy in his work. Each painting gives the impression that it is ready to explode beyond its limit.  
For many art critics and scholars, each of the best Paul Cezanne drawings and paintings from this period in his life seems to be the conception of an artist who is either a madman or a genius. Mainly because of this controversy, his artworks were consistently rejected by the annual Salons in Paris. 
The Post-Impressionist Artist Paul Cezanne's Life between 1872 and the early 1880s
In 1872, Cézanne moved to Pontoise, France, where he spent two years. He worked closely with Pissarro and was convinced that one must paint directly from nature. Because of this new philosophy, the romantic and religious subjects began to disappear from his canvases.
In 1874 Cezanne decided to participate in the first exhibition of the Société Anonyme des artistes, peintres, sculpteurs, graveurs, etc. This historical exhibition was organized by radical artists who the official Salons had persistently rejected. This was the beginning of "Impressionism." However, Cézanne exhibited in only one other Impressionist show – the third one held in 1877.
After 1877, Cézanne isolated himself from the Impressionistic artists and developed his style and techniques that fitted in with the post-Impressionists. During this time, Cézanne did not exhibit publicly for nearly 20 years.
Cezanne from the 1880s Until he Died in 1906
During the 1880s, Cézanne saw fewer and fewer of his friends, and personal events affected him deeply. In 1886 he married the model Hortense Fiquet, with whom he'd been living for 17 years. His father died that same year. 
One of the most critical events for Cezanne in 1886 was the publication of the novel L'Oeuvre by his friend Zola. The story's hero is a painter presented as an artistic failure. Cézanne took this publication personally and felt that his friend saw him as a failure. As a result, he never spoke to Zola again.
In 1895, due to the urging of Pissarro, Monet, and Renoir, the art dealer Ambroise Vollard exhibited several of Cézanne's paintings. As a result, public interest in Cézanne's work slowly emerged. He sent drawings and paintings to the annual Salon des Indépendants in Paris in 1899, 1901, and 1902, and in 1904 he was given an entire room at the Salon d'Automne.
In 1906, while painting outdoors, Cézanne was overtaken by a storm and became ill. He passed away in the city of his birth, Aix, on October 22, 1906.
Conclusion
Apart from drawings and sketches, Cezanne created more than 900 oil paintings and more than 400 watercolors. Unfortunately, he was primarily not understood and was a loner. But his works laid the foundation for future art movements like fauvism.